HIGHLIGHTS OF MY ACADEMICS AT SENN HIGH SCHOOL
(Excerpted from My Memoirs)
"My Life at Senn"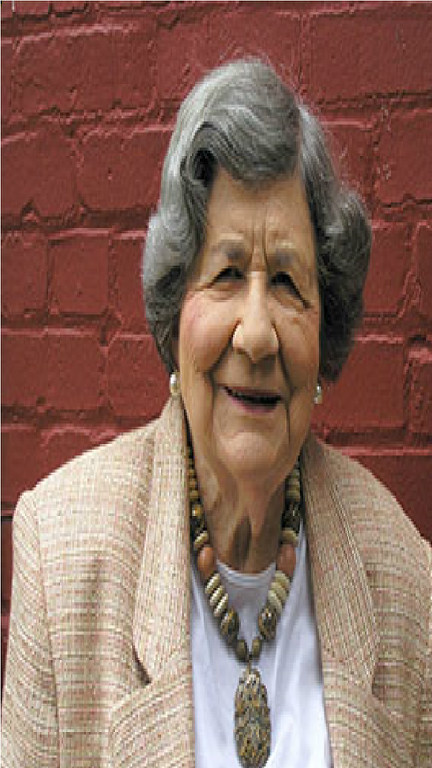 I am writing my memoirs, recalling highlights of my years at Senn 
E. Betty Levin (née Goodman) Class of 1943
Starting high school in 1939 at age 13 brought varied learning's --  comparable to visiting a new country with fresh ideas, a unique culture and unfamiliar values tumbling in an exciting torrent.
One of these opportunities arrived in my freshman English class.  On that first day, the teacher announced ceremoniously,
"We expect all students to become accomplished researchers, learning this task properly, footnotes and all." She continued,
"This includes correctly using the scholarly designations of ibid and op. cit."
Learning the details of serious research stimulated my zeal for education. I hung onto every word, serious about succeeding in this challenging new world.
She explained further,
"Be certain to choose your topic carefully since you will spend both semesters on the project.  And your English grade will cover the whole year.
A daunting project! I thought.
This challenge enchanted me, luckily so.  During lunch hour in the enormous cafeteria with high -vaulted ceilings, filled with chattering students munching their food, I felt miniscule and lost. I sat alone, selecting a corner table to settle my uncertainties. A burly-looking older student approached me; it seemed unlikely that I would attract such a guy. Leaning close, he questioned me boldly, as if I were on trial,
"Have you heard about the freshman English research project?" I looked at him quizzically, wondering what this was about. He jutted out his jaw, continuing,
"Well, this project is a tremendous amount of work. For just a few dollars, I can save you hours of labor." He took a wad of papers out of his hip pocket.
"Here are all the research notes, filed systematically on 3 x 5 index cards, ready to go."
I recoiled in my seat, uncomfortable. Was he actually selling his research notes? Noting my reluctance, he became more persistent,
"Look, I just couldn't use the material.  I changed my mind.  It's really a good deal."
This "deal" reeked. It was not only dishonest but would cheat me of an experience that promised a fresh adventure. He picked the wrong frosh! My big brother, Leonard, had warned me about suspicious proposals that would appear in life.
"Beware!" he had cautioned.
I became more sure of myself and shook my head vigorously, "NO, I'm not interested!"
*     *     *     *     *
My larger concern was choosing an appropriate topic, researching and presenting it well. My passion for music, even surpassing my love of baseball, came to mind almost immediately.   As a 13-year-old, just developing musical tastes, as a bud starts emerging, my favorite composer was Tchaikovsky (Brahms, Dvorak, Sibelius, Samuel Barber and Steve Reich came much later.)
Somehow I was drawn to Tchaikovsky's final and Sixth Symphony, the Pathetique. Perhaps this selection resonated to my depressed childhood. My goal was to research this work, using the resources of the main public library in downtown Chicago.
I had extended my school schedule to six days, in a sense. Every Saturday became a day for research plus an added adventure--- viewing Chicago's impressive Michigan Boulevard with appreciative eyes.
Without fail, I traveled Saturday mornings on the Sheridan Road bus to my research destination. Sheridan melded into Lake Shore Drive followed by Michigan Boulevard, revealing architectural gems of downtown Chicago: the luminous bright-white staunch Wrigley Building and elongated Palmolive, topped with its aeronautical beacon. I was becoming more aware of noteworthy architectural sights; they never failed to excite me. I extended my neck full length to view their entire glory. An added treat was the squat Old Water Tower constructed of seemingly ancient stones.
At the Chicago Public Library, I became upset, finding only limited Tchaikovsky resource materials. Noting my frustration, the librarian suggested,
"Why don't you try the private library just across the street from here, the Newberry?" In my past experience, "private" usually meant restricted, not intended for Jews.  Oh, that problem, I've heard about "Would I be allowed there?"  "Sure, the public is welcome."
I wondered, How did I get so lucky? The Newberry was new to my experience and the librarian was correct---it was clearly inclusive,
I was welcomed into its vast hall and surprised to be personally served by an efficient young boy of color. I was gratified a person usually segregated from whites had been given an employment opportunity, and in a prestigious institution, though in a subservient position.
Their policies were clearly liberal, including both Jews and blacks.  He waited on me, as staff on a Pullman train, fetching the list of books I referenced from the wood file boxes. This special privilege by-passed the public's need to enter 'the stacks,' thereby protecting its invaluable archival material. He personally brought heaps of books to my table where I recorded notes  *     *     *      *
It was interesting to discover the historical perspective of Tchaikovsky and his life.  My research revealed that he had actually visited New York City in 1891, where he had officiated at the opening of the prestigious Carnegie Hall. He conducted the N.Y. Philharmonic in one of his own works, "Festival Coronation March." I also learned Tchaikovsky earned meager funds and maintained himself through the generosity of a wealthy patroness, Nadejda Von Meck.
At the time he was composing the Sixth, there was a very serious cholera epidemic in St. Petersburg.  Everyone was strongly advised to boil water before drinking it.
One particular passage stands out for me, encountering an emotional family conversation.  Tchaikovsky's brother, Modeste, found him drinking unboiled water, exclaiming,
"Petrov, what are you doing?  Drinking unboiled water!  How can you?"
Through the years, I have heard much controversy about whether Tchaikovsky had taken his own life.  It's true he was depressed --- his patroness had discontinued financial support of his work.  There is much sadness in his final symphony (as well as other moods and passions), and he seemed to have deliberately drank dangerous water in perilous times.
I make no judgment but the facts are suggestive.  Tchaikovsky conducted the premier of his Sixth Symphony in October 1893 and was dead seven days later, by early November. Having encountered and surmounted a depressed period of my own life, I became aware how tragic it can end for others.
*     *     *     *     *
Our teacher suggested,
"In writing the thesis, try connecting your subject to a familiar idea that will 'hook' the reader to continue on."
This concept clicked! I listened regularly to a popular favorite radio program whose theme opened with a melody from the Sixth. A literary description of that music, describing its rapturous flow, became the opening paragraph of my research paper.
After completing my thesis, my dear friend Gloria typed the manuscript which I proudly submitted to my teacher. After gathering up all the theses, she explained,
"I'm going to spend my spring vacation reading and grading the papers."
Afterwards, our teacher described sitting on the floor of her apartment, perusing the theses, "I kept those that seemed of unusual merit close by,  throwing the others across the room to read later."
I believe mine was one she probably kept near her.  I received an A+ for my work which I had enjoyed immensely. It hadn't really felt like 'work', pursuing a project which had provided great satisfaction. Discovering the circumstances under which a favorite piece of music had been composed added richness and complexity to my pleasure.
 So this is what learning is about! I exalted, gratified I had grabbed the initiative to explore a compelling interest of mine.
Frank Sinatra Brings Brotherhood to Senn High
Another high point of my high school years was when Frank Sinatra came to visit. It was 1939 and in those days, bobby soxers squealed and swooned over "Mr. Blue Eyes," especially when he crooned his soulful tunes. But I was different, just not impressed.
My teenage heart pounded for the Chicago Cubs baseball players, especially Stan Hack, Billy Jurges and Gabby Hartnett – these were the men who made my blood course recklessly through my veins. To see the shortstop scoop a liner out of the dirt and hurl it swiftly to first base to beat the batter for an out --- now that's something to scream about!
My love of baseball was influenced by my deep affection for my brothers, we three attending many Chicago Cubs baseball games together. To please them, I would arrive at Wrigley Field early to save a good seat for us sitting together in the grandstands. The bleachers were cheaper but too hot in full sun; the grandstands were worth the extra cost. Also, they allowed a superb view of the vine-covered bleachers across the green velvet grass field. My premature arrival was time well spent – I photographed and solicited autographs from my favorite ball players.
About Sinatra, surprisingly, the word was he was not coming to sing at our high school. He planned to participate in a special assembly sponsored by the National Conference of Christian and Jews.  This piqued my interest.  Since Frankie wasn't going to sing, we would be spared the spectacle of girls making fools of themselves with their screaming and swooning.
On the day of the special assembly, a priest, a rabbi, and Frank Sinatra shared a panel discussion on brotherhood.  I don't remember everything they said but just seeing men of the cloth, from different religions, sharing the stage shoulder to shoulder, listening to each other, held my rapt attention.  I didn't know priests and rabbis spoke to one another, much less shared similar ideas.  And Frank Sinatra himself voiced ideals: to respect people of different beliefs and the importance of tolerance.
This was meaningful and exciting! The democratic, religious and progressive ideas expressed by these religious leaders excited me but were not entirely fresh in my experience. I had already encountered some of these concepts in the past. They had already taken birth within me, largely by ideas from cousin Dorothy, my father's "working people" convictions and goals of the Ethical Culture religion. But it was deeply satisfying to hear them affirmed by others, especially religious leaders and a national celebrity.
Old memories stirred within me.  From early childhood, I wondered why people of different religions set themselves apart.  Religion was supposed to make you a better person.  But if it kept people separated, even distrustful and angry at each other, where was the good?  And if each group claimed to have the real truth, how could that be?  Was it possible there was more than one truth?  Here was a mystery that confused my childish mind and I longed to figure it out someday.
The high school discussion demonstrated that people from different religions and perspectives could find a common ground of beliefs.  The climax came at the end of the assembly, the three men holding hands and rising to their feet as one.  They raised their clasped hands over their heads, triumphantly, like boxers claiming their prize.   This was a profound moment for me, this vision burned into my consciousness as hope of what could be someday.
When individuals hear this incident about Frank Sinatra, they are surprised to learn he had a social conscience.  I later recalled hearing an early recording of Sinatra singing "The House I Live In," connecting with this stirring high school experience.  The repeated refrain he emotes, "This is America for me" celebrates a democratic society of hometown values, diversity and respect. The lyrics for "The House I Live In" are listed at the end of this chapter and the CD can be purchased from Amazon. I ask myself: What influenced Sinatra to shift his idealistic perspective in later years?
That school assembly contributed a major step in spurring me on my religious journey toward ethical and spiritual growth.  The applause of the students as they shouted their approval of the common quest of priest, rabbi and Frank Sinatra still remains with me.
This inspiration served me further as a "seeker" and one day, I did indeed join a religion that brings together people of all backgrounds.  When I found the Ethical Culture Movement, it was an epiphany for me.  Childhood dreams could be realized.  My religion inspires respect for all peoples and the goal of creating a more humane world.  It has shaped who I have become, influencing my beliefs, actions and quality of life to this day.
Frank Sinatra – "The House I Live In"
[Intro:]
What is America to me?
A name, a map, or a flag I see?
A certain word, "democracy"?
What is America to me?
The house I live in, a plot of earth, a street
The grocer and the butcher, and the people that I meet
The children in the playground, the faces that I see
All races and religions, that's America to me
The place I work in, the worker by my side
The little town or city where my people lived and died
The "howdy" and the handshake, the air of feeling free
And the right to speak my mind out, that's America to me
The things I see about me, the big things and the small
The little corner newsstand and the house a mile tall
The wedding in the churchyard, the laughter and the tears
The dream that's been a-growin' for a hundred and fifty years
The town I live in, the street, the house, the room
The pavement of the city, or a garden all in bloom
The church, the school, the clubhouse, the millions lights I see
But especially the people
That's America to me
A Notable Concert Has an Unexpected Ending
Attending this concert brought an unhappy aftermath that opened my awareness about unexpected emotional responses --- how they are triggered, resulting in troubled experiences. The upset ended without resolution, leaving me longing for deeper understanding.
These events occurred when a famous violinist was coming to Senn High School to perform; I believe it was Isaac Stern. This special event turned negative through my innocent decision.
The two stipulations for the concert were: it was scheduled during home room time and limited assembly capacity would allow only some students to attend. This privilege was limited to seniors.
As a freshman, I was excluded but outraged.  Passionate about music, I resented being barred from this event which was free, no small matter to our penny-pinching family.
I considered:
If I merely skipped homeroom, I could attend the concert! So what if my freshman status violates the rules? I realize I'm always compulsively obedient but this is different, a special event. Anyhow, homeroom was usually a waste of time, concerned mostly with taking attendance and trivial announcements. 
I became determined ---this was a "go," for me, seeing a real live professional violinist perform!
What I didn't know was that the school had a new policy regarding truancy. Students not showing up for homeroom would be reported with a phone call home. I was unaware my mother would be traumatized, receiving an alarming call, most likely:
"Mrs. Goodman, this is the Senn High School office calling to inform you your daughter, Betty, didn't arrive at school today."
In retrospect, I can only imagine the reaction of my mother (once I later witnessed the turbulent school office scene) when the call came into my father's tailor shop where she daily worked with him.
*     *     *     *     *
Back at school at 11:45 PM, while in my Clothing Class, sewing a pair of pajamas for a forthcoming sorority pajama party, the phone rang,
"Would Betty Goodman please come to the office." No urgency was apparently communicated, just a routine business-like message.  My teacher suggested,
"Since it's practically lunchtime and you probably won't be back before then, put your sewing materials away before reporting to the office."
Leisurely, I methodically gathered fabric scraps, thread, pins and the unfinished pajamas, carefully placing everything in my assigned cubby, ready for the next session.  Nonchalantly, I strolled to the high school office, wondering,
Why are they calling me to show up there?
Upon arriving, I was accosted with high drama. My mother was draped over a large chair, only half conscious, with a white-uniformed nurse holding smelling salts under her nose.  My father's black angry eyes stared daggers at me.  I imagined his accusations,
I could kill you!  How could you treat your mother like this, with all she has done for you?   
I believed only the presence of the school personnel prevented him from pulling his strap from his pants and "letting me have it," as I often had seen him punish my brothers.
My brother Lester (Senn, class '40) was there too; apparently, with my delay in arriving at the office, they had summoned him to reassure my mother that at least her second youngest was safe. He looked puzzled, probably thinking,
How could his goodie-goodie little sister, so obedient and harmless, have done anything thoughtless to hurt mother?
I felt shame: I only wanted to see a concert.  Just asserting myself had caused my mother pain!
After much time, I realized their upset was provoked by the possibility I was missing, with possibly tragic consequences.                                                    *     *     *    *    *
Through growing up years, anger and tumult have always unnerved me, usually inducing nausea. As with many emotionally-fraught incidents in the family, we never discussed the events.
Upon reflection, I realized that many past immigrant experiences that people endured often brought cruel, incomprehensible and even fatal consequences.  The best remedy for survival was Forget about it!
Thus, we never discussed this upsetting incident which could have brought clarification and understanding. My mother's fear and father's rage were left verbally unexpressed; also, I never apologized for my 'misdeed.' Finally, we missed rejoicing together with relief, even chuckling over the jarring event that caused no lasting harm.
Additionally, an opportunity for sharing with family my deep feelings about music was lost, at least abetting the hard-earned shekels my father reluctantly expended for those extended years of piano lessons.
Handling the aftermath of family difficulties remained a huge void in my life for many years. At that time, I accepted I have an oversensitive mother and a usually angry father. My mother's strong reaction became more meaningful when startling information was revealed long after her death.
For now, it became apparent to me that clarification  of misunderstandings would have to come from other sources--- how emotional perceptions cause conflicts, what other conditions contribute to difficulties and further, how the uniqueness of life experiences color these circumstances.
At that time, my understanding was at a primitive level but my appetite was whetted. I was highly motivated to pursue this path of knowledge toward psychological insight, committing myself to years of study and personal therapy. Ultimately, this road led to my becoming a private practice psychotherapist, trained psychoanalyst and lecturer on the human condition.
Joining a Sorority
This experience became a highlight of my social development in high school, particularly since I was mostly friendless during my elementary school years.  I felt I had "arrived" when popular June Heyman invited me to join the high school sorority, a sign of social approval that I could fit in.
The sorority was unusual—no name, no mission.  Another unique quality was that members attended different high schools in the area, not just Senn High, a diversity of sorts.
This thread of Jewish middle-class girls represented the common denominator of members from the various high schools. We met for support as we approached adolescence with many questions confronting us.
The girls had various goals after graduation.  A few, including myself aimed for college; others planned to work in office jobs, contributing to family finances and awaiting a proper mate for marriage and starting a family.  I believe June was in this latter category.
I was surprised that my cash-strapped family never expected me to forego advanced education in favor of early employment to augment the household income. My mother was intent upon a college education for me. Whenever she and father differed, her will usually prevailed.
Sorority membership brought richness to my life, attending business meetings, varied social gatherings including an annual Mother's Day luncheon. This latter event became a ritual ---an elaborate celebration including the business meeting's spirited discussion whether our treasury could afford corsages for each mother. Teenage compassion prevailed, the majority agreeing, "Look, our mothers have always given us so much; we must express appreciation in return!"
Somehow, we found the funds to afford the purchase. I vividly recall Mom beaming with joy, sporting those beautiful flowers on her left shoulder. I finally had found a community-supported event for publicly honoring my devoted Evelyn!
One of our sorority's fun activities was an annual pajama party, overnight at a local modest hotel.  Sharing anecdotes, silly games and extravagant food were our idea of a good time.
On other occasions, four of we members bonded, sharing special interests and concerns. One get-together crisis occurred when we received a phone call from an overwrought member.
"I did something dreadful last night and must discuss it with all of you."
We loyally met early the next day to listen to her 'misdeed.' Helen hysterically confessed a 'shameful' experience with her steady boyfriend.
"Tim and I had a hot session last night."
In anguished tones, she revealed,
"I allowed him to fondle my breasts!"
Helen wept hysterically, dropping her head into her hands.
Though inexperienced, I regarded her admission as inconsequential. I knew that couples experimented with their emerging sexual urges and "even went all the way."
I remained silent as my other companions reassured her, trying to free Helen of her guilt. One friend offered,
"You and Tim have cared for one another for such a long time. It's natural you would allow him to explore your body a bit."
I quietly considered, I so envy Helen's pretty face, magnificent fully-developed breasts and an on-going relationship with a fine man. I am so flat-chested, gawky and unattractive --- no sign of any male interested in me ---  I don't know what it means to even date a guy. Helen has everything and yet she is miserable. How do you achieve ultimate happiness in life?
          There was so much for me to yet figure out.      *     *     *     *     *
Alice was another member of the sorority with whom I was fond. She told me of traumatic experiences with an older sister who suffered epileptic fits, how her sister sometimes fell on the exposed radiator.  With mother not home, Alice and another sister pulled their unfortunate sibling from the heated element, which sometimes claimed the hideously-damaged flesh.
I was not surprised when Alice left home abruptly for marriage after graduation, settling somewhere in the West. We corresponded occasionally, her letters expressing unrest in her new life until I received word of her untimely death.
Another friend whose name I can't recall developed polio in her young twenties and also suffered an early death.
Experiencing the death of young friends was becoming a common experience in my life. The mysteries of our limited time here on earth had become another very sober imponderable.
In the meantime, another friend completed college, married and settled in a humanistic, ecumenical community. (I believe it was either a Folk Society, Quaker or Unitarian.) These qualities definitely excited me, especially as progressive ideas were beginning to enter my consciousness. I intended to seek her out further but never pursued this goal as other interests intruded.
Returning to June, she was my most favorite person in the sorority. I found her easy-going assurance and kindness, buttressed by leadership qualities, very appealing. She functioned as a kind, wise and true leader; I admired her tremendously. She gently shaped the direction of our sorority. I believe she had been elected president but don't recall the administrative details.
I secretly singled her out to be my sister-in-law, hopefully as wife to my older brother, Leonard, an accomplished accountant.  I 'fixed them up' and they dated, quite seriously for an extended time. Then WWII intruded when Len was drafted.   June poignantly shared with me,
"I would have waited for him if only he had asked. But Len seemed to feel it unjust to burden me."
Though I wished otherwise, I was not surprised. Len regarded 'consideration' of other people's feelings a prime virtue, overriding his own. I felt deep regrets for them both. They seemed so well suited for one another, each appreciative and deserving of their respective sterling qualities.
The war brought this common dilemma for many loving couples, separated by wartime duties. Eventually, June married another accountant; I was invited to their wedding and was witness to their private passionate kiss after the nuptials. Sadness gripped my heart but who gets all their dreams fulfilled?
I visited June briefly in her marital home when her son was a toddler. Her home was beautifully furnished; I must have looked with disapproval at the heavy plastic covers shielding the fashionable furniture and probably commented negatively. June became defensive,
"A small child with jelly-soaked fingers can really ruin good furnishings!" She was practical as always.
I was still childless and felt guilty about that incident. Still immature, I regarded complementary, show-place furnishings among my values.
I encountered June Heyman again, only by chance, when I returned to Chicago in 1998 for Senn High's 50th class reunion. Thrilled to see her again, we met briefly, exchanging phone numbers to hopefully reunite again for a lengthier visit. I returned to Chicago about 10 years later for a family visit and again, June and I met, joining my family for a brief interlude.
By now she was a widow, in poor health, breathing with a mobile respirator.  However, her good spirits were still apparent but I sensed some discomfort on her part.  My heart was saddened to realize what misfortunes had befallen her. The cruel injustices that seemingly strike decent, caring people remained a profound dark mystery for me.
Unfortunately, I have misplaced her phone number and have unsuccessfully 'Goggled' her; we have completely lost touch. I feel if we lived in the same city, we would enjoy a fine friendship. At the Chicago Senntennial reunion in October 2013, I hope to reunite with June or at least, discover news of her.
My Typing Class and Decorum
Learning to type seemed very practical and could become convenient for earning much-needed monies in uncertain times. Enrolling in this course became a must!
           I mastered the skills easily, no sweat. I told myself, If necessary, I really could qualify as a competent secretary some day. Each classroom session involved practicing typing skills for accuracy and speed. The chattering of the keys, like a gathering family of birds, inhabited our environment, ceased only with the teacher's bell marking the end of practice sessions.
The most memorable experience of that class did not involve our dexterity skills.  That day, the teacher specified: "Today won't involve the usual practice typing. Instead I'm going to lecture on proper office decorum. She continued sternly,
"My greatest concern is appropriate dress for a business environment."
Her voice became more strident as her lecture continued, "You must never wear sweaters to the office; this is mandatory. Can any girls here tell me why?"
We were dumbfounded and awaited her explanation. When we remained silent, she continued in a quiet voice as if sharing an FBI confidence,
"Very simply, sweaters are inappropriate because they are revealing of form."
A few of us twittered, subduing our voices into our folded arms, amused at her "old-maid" prudishness.
As matters developed, I don't recall a dress code preoccupying me at my various typing jobs, particularly since I was late developing in the breast department.
Yet, my ability to earn money as a typist eventually became crucial. Upon graduation from college with a B. A. in Psychology, the only job for which I qualified was a nursery school teacher. However, nursery schools were only one-half day schools back then. I needed other work to augment my income; office typing jobs as a "temp" became a practical solution.
The pragmatics of returning from nursery school wearing slacks, then changing into appropriate business attire, after bolting down my lunch, for the remaining one-half day of work, became my routine.
I don't recall whether I chose a sweater for my office role but I know I performed my typing jobs efficiently.
Earning My School Letter
My totally new identity emerged as an athlete though I never before considered I could excel in this area. Very small for my age, I lacked the muscular strength to compete effectively in the popular sports—baseball and basketball.  Thinking over these inadequacies, I mused,
Maybe there was a different way to use my abilities. If I succeeded, perhaps I could even earn enough points in the GAA (Girl's Athletic Association) to earn a minor letter.
Reaching further, perhaps I could even could play on the teams and earn my major letter! --- that coveted "S" to wear on a school sweater that I saw the older juniors and seniors wear so proudly.
Winning those elusive letters depended on earning points. Points for refereeing after-school games are easy to acquire. But the much larger points accrue from playing on the school teams! Volunteering to referee was a cinch but how to get on those teams and earning substantial points?
In playing baseball, I came up with a strategy, one I had often seen at the Cubs baseball games.  In coming up to bat, I could just "bunt," tapping the ball in front of the plate, catching the other team by surprise. By running fast to first base before they could field the infield ball, I could earn a single!   I did this repeatedly before other teams began to notice my strategy.  Even when they played me in close, I could often beat them to first base.  I was a fast runner, thanks to Lester, and those Winthrop Avenue races he organized. This strategy clearly earned me a place on the baseball team.
In basketball, I figured out a strategy there also. Because I was very short, throwing baskets to those heights was impossible.  But as both scrawny and fast, I could function as a guard, in a defense position. These abilities could block a player from shooting a basket, or even passing it to another strategically-placed player.   I became known as competent in "blocking."  Thus, my skills were recognized and I made both teams earning  my coveted "S"  I also earned money to buy the expensive sweater, even sewing on the letter myself
*     *     *     *     *
The day I wore my new sweater to school with the "S" sewed on, my barely-developing breasts jutting out in pride, I attended "health" class.  This particular session featured a special guest, a representative from a cosmetics company who would demonstrate how to apply makeup expertly - the whole works: mascara, eye shadow, eyeliner and rouge.
With "moxie," I volunteered to be that subject. After her skilled applications, looking in the mirror, I was somewhat surprised at the unfamiliar teen I viewed, but pleased to anticipate what an adult life could hold for me in the vanity department.
That same day, I had an orthodontia appointment in downtown Chicago.   Riding the "L" I wondered why the riders were staring at me so strangely.  I then realized ---the collision of styles must have looked startling, even clownish, wearing an athletic sweater but 'made up' like a glamorous chorus girl. Feeling foolish, I thought,
I'll have to use better judgment in the future. 
          But then, how important was it really? I vowed that ill-considered decisions were not going to remain major drawbacks to my ongoing learning and living well.
My Sweet 16 Party
Thanks to my brother Lester's encouragement, my budding interest in the opposite sex continued to evolve.
"You're not inviting boys?" questioned my brother Lester when I told him of my plans for my sweet sixteen party.
"I'm having a few friends in for gabbing and good eats."
He got lovingly annoyed with me,
"You can't pass up this opportunity—you know that expression—sweet sixteen and never been kissed," scolding me gently.
Les persisted,
"You don't want to fall into that rut—do you?"
Les gave me a different perspective to think about.  Upon reflection, yeah, it would be fun to have a boy-girl party, spin the bottle and all it could bring!
"Les, you're right.  I've reconsidered and I'm following your good advice."
Some girls thought it a bit brazen but what the heck, you have to take some risks in life .  .  .
It was indeed a fun party, not only spin the bottle with the usual kissing, but also a groping adventure with the lights out.  I chuckled a bit when some kids, while groping in the dark, bumped into my childhood doll carriage sitting in the corner of the room.  I was becoming aware—growing up is a gradual process, relinquishing and gaining in succession.
After everyone had gone home, after commending me for throwing such an enjoyable party, about twenty minutes later, there was a knock at the door.
Oh, someone forgot something, I said to myself.
It was a German student, blond-haired Gus, at the door.  Indeed he had forgotten something.  He explained haltingly,
"You know, 'sweet sixteen and never been kissed,' he stammered, blushing, 'and I didn't get to kiss you.'"
I offered my lips eagerly, he planted a quick kiss, and was off promptly, mission accomplished.  I thought, my brother Les has special wisdom, bless him.
Other Miscellaneous Courses and Events
International Relations 
Several electives evoked my special interest. International Relations attracted me because I was curious about the larger world.  Our teacher of great merit, Henrietta Hafemann, was so compelling and effective that she was featured in LIFE Magazine  as an educator of note.
I don't recall any specific lessons but she inspired me to pursue knowledge and understanding of the world beyond the United States. This course launched my broader world interests, pushing my concerns beyond my American ideals.  Eventually I became a "peacenik."
However, after high school, my first step toward international awareness didn't occur until I became a young mother, in my early 40's. I mentioned to my two children ages 10 and three, about children and cultures from "other side of the world". This idea became reinforced when my children, enthusiastically using UNICEF Halloween boxes, collected coins in support of countering poverty and sickness in far distant countries. Additionally, I suggested Friday night dinners designated as "International Evenings," honoring the cuisine of foreign countries. Somehow, since their father, Howard, could never arrive home at a reasonable hour for supper, I abandoned the project. Being somewhat passive back then, I lacked initiative to carry out the idea without his active support.
However, Howard was intensely excited about the arrival of the 1965 New York World's. We attended the Fair on more than 40 occasions during the summer. It was 'natural' that we focused primarily on the Pepsico-sponsored attraction ---  a tribute to UNICEF and all the world's children.
For that event, visiting it repeatedly, we traveled in a small boat down a narrow lagoon, moving between colorful, animated panoramas of foreign countries: Scandinavia, the Middle East, Africa and Central and South America, Accompanying that journey were recorded children's voices singing the infectious song, "It's a Small, Small World." We were captivated, savoring and singing the melody all the way home. Through tunnels and expressways, joining New York and New Jersey, and for many years thereafter, the ideas remained fertile. "Children from the other side of the world" had made a fresh impact.
In my later adult years, I encountered inspiring individuals concerned about bringing peace to the world. I became committed as a peace educator, contributing to the designation of the Ethical Culture Society of Essex County (N.J.) as the First Peace Site ever. This effort originated with the retirement efforts of Lou Kousins of N.J. Sane in spreading the Peace Site concept worldwide.
I presently offer peace workshops to both adults and children in community centers and schools. Also, I am planning a presentation, "War and Peace", based on the book, "The End of War" by John Horgan which I shall discuss at a Sunday Service of the Ethical Society in October 2013.
Sociology
When I noticed sociology as a high school elective, I asked my brother, Lester what that subject was about.  He replied simply, "Society."
His curt answer misled me, evoking connection only with Society Page events of our daily newspaper.
What foolishness, I thought.  Studying about rich people, their attending fancy galas, charity balls and such.  Why would students be interested in that trivia?
It required many years before I understood the profundity of the subject ---that "sociology" encompasses the full sweep of culture, history, peoples--- their struggles and how it impacts the very fabric of their daily lives.
As I began to understand its enormity, I chose Sociology as a second major along with Psychology at the University of Illinois.  When I demonstrated special aptitude, I was elected president of the Sociology Club there.
I chuckle recalling my teenage misunderstanding of the subject. Culture and their peoples interest me intensely today; I maintain files of newspaper and magazine articles as well as radio and TV commentaries on their dilemmas.
Physics
Lester always supported my growing up years, strongly urging me to enroll in the elective 'physics.'  I stubbornly refused, feeling alienated from the hard sciences.  Only the "soft sciences" resonated for me ---psychology, sociology, political science, the arts --- "right brain" functioning.  The left brain subjects were mostly alien to me.
Les scolded me gently, "Sis, you'll regret it;
physics is fundamentally important to understanding our scientific world."
I compromised and took inorganic chemistry.  Frankly, I don't remember much about it except the periodic tables.  But I have fond memories of my chemistry teacher, among the earliest grown men of my life with whom I could feel comfortable.
In the classroom, his informal manner was idiosyncratic; when calling on a student, he would playfully throw chalk at her/him.  What impressed me about this light heartedness was that a professional man in authority, could become playful  "on the job!" His manner contrasted sharply with that of my always-stern father.
Curiously, I have become interested in the New Physics in my mature years.  This development, including "Quantum Physics," has introduced me to new theories about the cosmic world such as black holes and string theory ---the very beginning of our solar system.  I am awed about the unknown yet to be discovered--- perhaps even parallel universes, with profound implications for our human civilization.
The Prom, Graduation and Selecting a College
Anticipating high school graduation, it was time to consider my choice of college.   But first was the joy of the prom.
I needed a date but unfortunately, boys were not usually attracted to me as a skinny, gawky teen; not surprising, I wasn't dating much at all yet.
Was the situation also related to my unfortunate dating pattern, due to my passion for classical music and the emerging technology of long-playing phonographs and records? When a fellow called for a date, he received an inquisition:
"Do you own one of those new long-playing phonographs?"
If they replied in the affirmative, I next queried
"Do you own any classical long-playing records? Tchaikovsky? Brahms? Mozart?" If so, we had a "deal," a date sitting on the living room floor together, listening to the "entertainment" provided by the guy with his tech equipment. Since this was an inexpensive date, it was only fair that I contribute the soft drinks and cookies.
Privacy was unavailable for some physical intimacy; if our feelings were aroused, with my parents present somewhere in the apartment, they could barge in unexpectantly. Most guys wouldn't consider this circumstance an ideal date, even with zero cost.  They most likely had other ideas in mind. But I was too single-minded to be aware.
So prom time found me without a date. I had my maturing eyes open for eligible candidates; however, I can't recall any fellows pursuing me after the  "classical music/living room floor" experience.
I did have a crush on Dick Brinkman, one of Lester's handsome friends and invited him to be my date for the prom.  I can't recall any details except my makeshift dress Mom made over from a relative's discard; the dancing, friendliness and cuisine remain forgotten.  I do remember vividly the "necking" with Dick on the beach as was the custom  for post-prom evenings.
Now for graduation and college plans --- upon graduation from Senn High, my grade average was substantial.  I recall I ranked eighth in a graduating class of 538 students. Reaching high, my eyes focused on the prestigious University of Chicago for college studies.  Diplomatically, my guidance counselor gently suggested I look elsewhere.
"Betty, you are clearly a high-achieving student but you may not quite measure up to the caliber of others attending such an elite university."
I decided to apply to Northwestern University in Evanston, just a few elevated train stops from mine at Granville Avenue.  I was concerned my father would have difficulty with costly tuition but Mom always found the money when important situations arose.
When I applied to Northwestern, I was astounded to be rejected.  I don't recall their reason; however there was hearsay that anti-Semitism was thriving there at the time.
Locating Senn High School alumnus Bianca Hirsch (née) Zwanger recently, she confirmed a similar anti-Semitic experience at Northwestern University but with one major difference: boldly, she confronted them directly about their prejudices! I passively accepted their supposed bigoted decision and looked elsewhere, merely accepting the decision timidly.
Bianca explained her experience which resolved satisfactorily: As a part-time student at Northwestern, applying for full time admission and rejected,  she spoke to them openly about their policies.  They reversed their stance immediately and Bianca was fully enrolled.
While searching further, I did receive a $100 scholarship from a then newly- organized institution, Roosevelt College. It was planning to locate in downtown Chicago's Orchestra Hall where I had attended many concerts in the past.  However, I rejected that offer, regarding a novice, newly-emerging college to be of questionable value.
Frankly, I felt more comfortable attending Wright Jr. College, the institution both my brothers attended, a family tradition of sorts. It turned out to be a near-perfect choice, considering the six dollar per semester tuition, living at home and the reasonable commuting distance on just two busses.
Even more important was the curriculum. The Chicago Junior College system had adopted the unique educational method of the University of Chicago.  The curriculum included survey courses in all the basic educational fundamentals --- the physical sciences, biological sciences, social sciences, and the humanities (the arts and philosophy.) This approach hews to the traditional idea that a truly educated individual understands the tenets of all basic knowledge, under girding their eventual professional pursuits.
At the University of Chicago, the survey courses were a two-year program; at Wright only one year, but very well presented, I heard. I was surprised and delighted that most categories of human knowledge could be organized into four survey courses.  What made the curriculum even more satisfying was it paralleling that of the University of Chicago,  my original college goal.
And so I was off, launching my college life at Wright Jr. College  in the autumn of 1943 at age 17. And this was "My Life at Senn"
E. Betty Levin (née Goodman) Class of 1943.