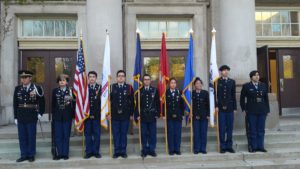 Senn's Army JROTC (Junior Reserve Officers Training Corps) is a premier unit striving to inspire leadership, character, and a vision for our nation in its cadets. Our unit focuses on motivating young people to be better citizens and scholars. It provides opportunities to build teamwork, self-confidence, and self-esteem.
During its last formal inspection, Senn's Army JROTC unit received the Honor Unit with Distinction award. The cadre from the Northern Illinois University ROTC program reviewed cadet files, listened to cadet staff briefings, inspected supply room inventories, etc. The Honor Unit with Distinction award, the highest evaluation an Army JROTC unit can receive, means that Senn's cadets scored an overall grade of 90% or above during that inspection.
Senn's unit has participated in numerous parades throughout the Chicago area including Chicago's Memorial Day Parade, Hellenic Pride Parade, Cinco De Mayo Parade, and Columbus Day Parade. Cadets have also participated in LaGrange's Pet Parade and the Village of Hillside's Veterans Day Parade.
The Color Guard and Honor Guard have participated in scores of ceremonies including Homeless Veterans Memorial Services, the Asian Coalition Banquet, WGN-TV Toys for Tots, USO of Illinois, Italian American War Veterans, Vietnam Veterans of America, National Vietnam Veterans Art Museum, Chicago Veterans Day Celebration, State of Illinois James R. Thompson Center, Navy Pier, Romanian Counsel General, United Center for the Chicago Bulls, Soldier Field, local school council meetings, and all Senn school assemblies.
Cadets have also enjoyed field trips to Washington, D.C., Fort McCoy, WI, Volk Field, WI, and Camp Lejeune, NC.