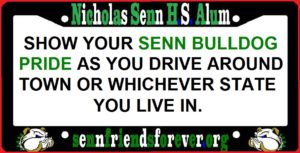 To purchase online please go to the appropriate amount of frames you wish to order below and click onto the correct PayPal button below. 
 
1 Frames
 2 Frames
 
Frame Price
 $    8.50
 $16.00
Shipping
 $    3.85
 $4.25
PayPal Fee
 $    0.35
$0.58
Total Price
 

$12.70

 

 

$20.83

 
1 - Senn Alumni License Frame
2 - Senn Alumni License Frames
Click here to choose 2 frames!
You may avoid PayPal fee's if you would like by mailing your payment to:
*Make checks payable to:
Senn Friends Forever Alumni
Mail to our treasurer:
Ron Kesselring
c/o Senn Friends Forever
2701 Phelps Ct.
Yorkville, IL. 60560
*when paying by check, please include the following:
Email address, Name, Class year, and Phone number.
You may also avoid shipping costs if you wish to pick up your frame(s) in person.
Please contact Ron at sennalumnicommittee@gmail.com for details.
Located in Yorkville, Il.